---
"External ESG ratings focus predominantly on environmental and social risks – with hardly any focus on governance or strategy. That's where ESG Navigator is especially helpful."
Linda Hilbert – Executive Director – Consumers Energy
---
Compare and Contrast
Would you like to see – on one page – how a dozen of the main ESG ratings and frameworks compare:
to each other?
to your ESG Navigator ratings?
Here is an example showing just one (of the 17) elements of ESG Navigator…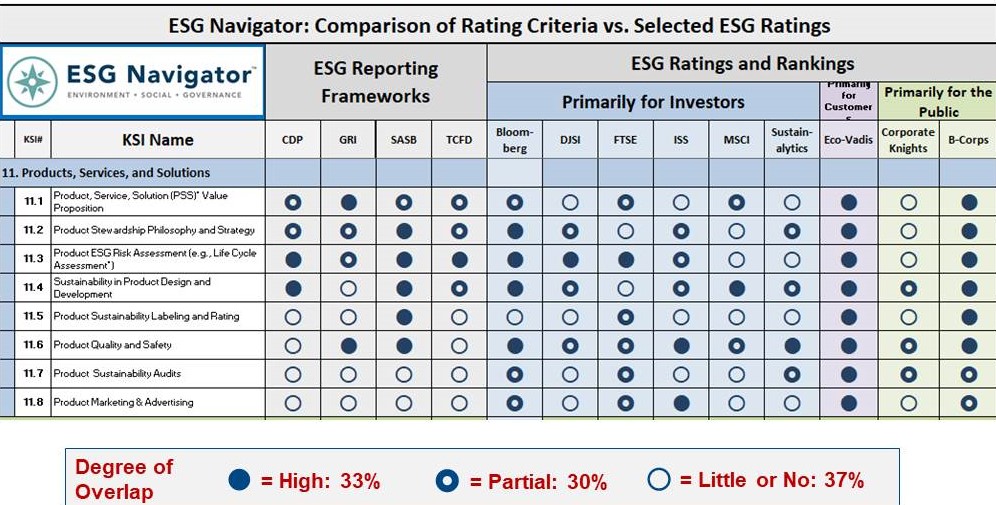 In the graphic above, a solid "bubble" means a high degree of overlap between the ESG rating scope – and the specific KSI; semi-solid "bubble" means partial overlap; hollow "bubble" means little or no overlap.
Toggle and Sort
Each column of the "ESG Ratings Bubble Chart" can be sorted.
Just click on the column heading (e.g., SASB) and all 114 KSIs will be sorted:

First by the SASB column bubbles (solid – then partial – then hollow)
Then by KSI#
Access HTML File
A special web page showing the comparisons (like shown above) is available only to companies that Join Advanced Option C.
For Advanced Option C company members, you can view the bubble ratings here.
Learn More
See https://esgnavigator.com/join/ – and contact gib@hedstromassociates.com to learn more.