Standard Subscription Breakdown:
Time Period: Annual Subscription (from date of sign-up)
What You Receive: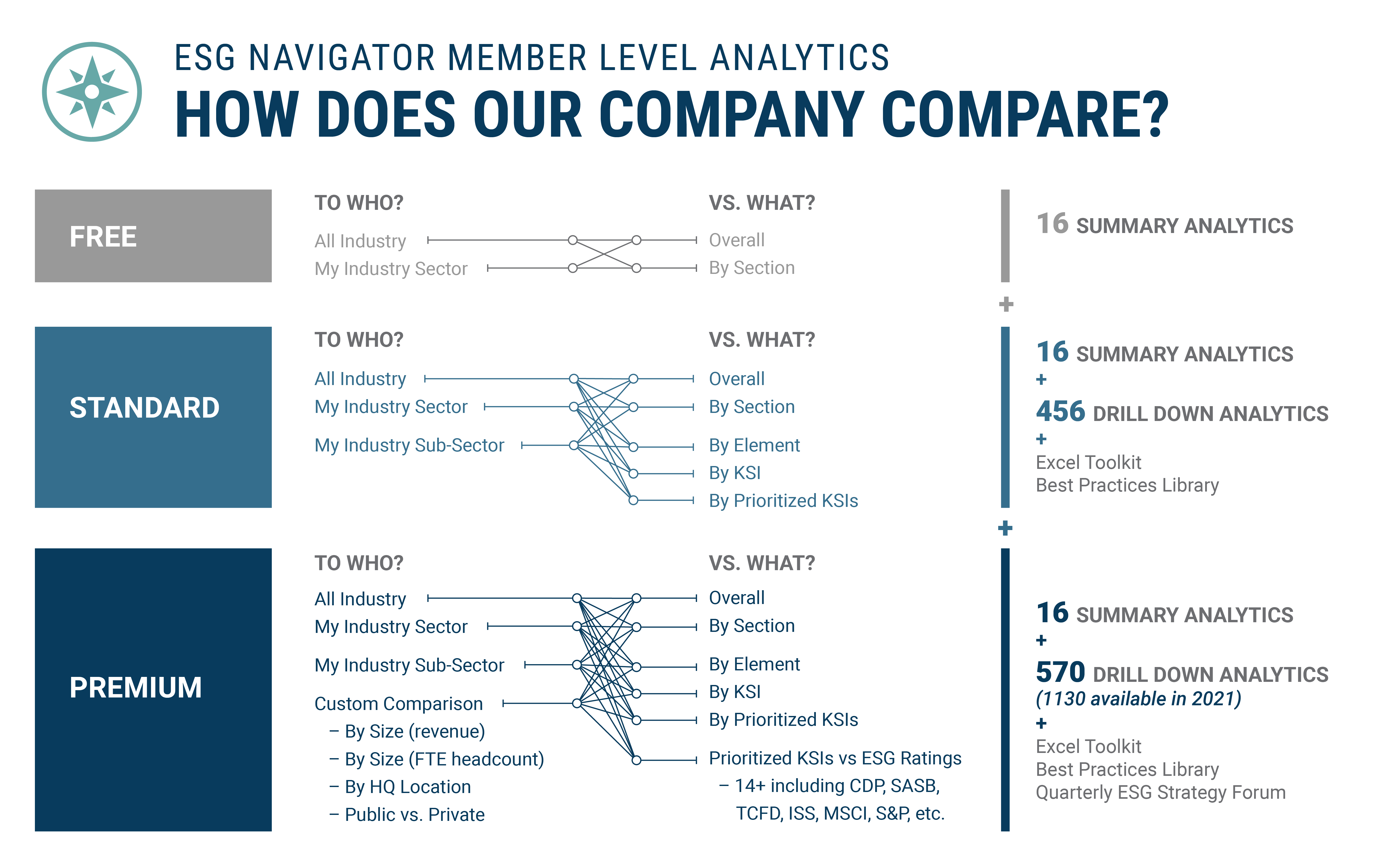 Option B provides 24/7/365 access to the user portal showing multiple ways to "slice and dice" the data to see your your company compares with peers. The main focus of the Option B is to help companies answer the basic question: "How do we stack up – vs. all participants; our industry sector and our industry sub-sector?"
24/7/365 Access: to user web portal (to be accessed via user name and password).
Complete your "Scorecard" directly on the website or using the Excel Toolkit.

Engage Colleagues – share the Excel sheet; send us the completed sheets; we return an automated report; you then review the summary scores and "highly relevant" ratings – and upload to the website.
Import Excel Sheet – later during Q4-20 and 2021, you will be able to directly import a completed Excel sheet directly to the website.

Benchmark Your Peers: comparison of your company to:

All participants (all companies in the database at the time of request)
Your Industry Sector (assuming at least six companies in the group)
Your Industry Sub-sector (assuming at least six companies in the group)

Benchmark ESG Topics: Compare your Company Self-Assessment to your peers:

Overall Score (your score and distribution of overall scores and scores in your peer group)
By Section (the  four broad sections of the Scorecard: Governance; Strategy; Environmental; and Social)
By Element (the 17 "pages" on the rating tool – that fall within the four Sections above (e.g., Goals and Metrics, Strategic Planning, etc.)
By KSI (the ~114 "Key Sustainability Indicators" that Scorecard users rate)

Examine your Most Highly Relevant Issues:  Dig into those items (KSIs) you marked as "Highly Important / Relevant to my Company"
Downloadable Graphics: Users can download charts and graphs depicting benchmark results.
Compare and Contrast ESG Ratings and Frameworks: See how your company scores compare (via your "Rainbow Charts for Governance, Strategy, Environment, Social) with:14+ESG ratings.
Requirements (same for all Join options): must be a for-profit company – realizing ESG Navigator is designed primarily for large and mid-size companies (e.g., revenue of $100MM+ or 100+ employees). ESG Navigator is not available (or intended for) professional service firms (consultancies, law firms, etc.).
What You Agree: Complete an initial Company Self-Assessment; update your Company Self-Assessment at least once per year. Click the Option A Join button – and thereby confirm the User Agreement. This ensures confidentiality of your data (no other company can see your data) and allows us to list your company name as a participant – so that you (and all others) have a sense of what peer companies are in the benchmark database.