Premium Subscription Breakdown:
Time Period: Annual Subscription (starting date of sign-up)
What You Receive:
The main focus of Option C is to help companies focus on: "How do we drive performance improvement?"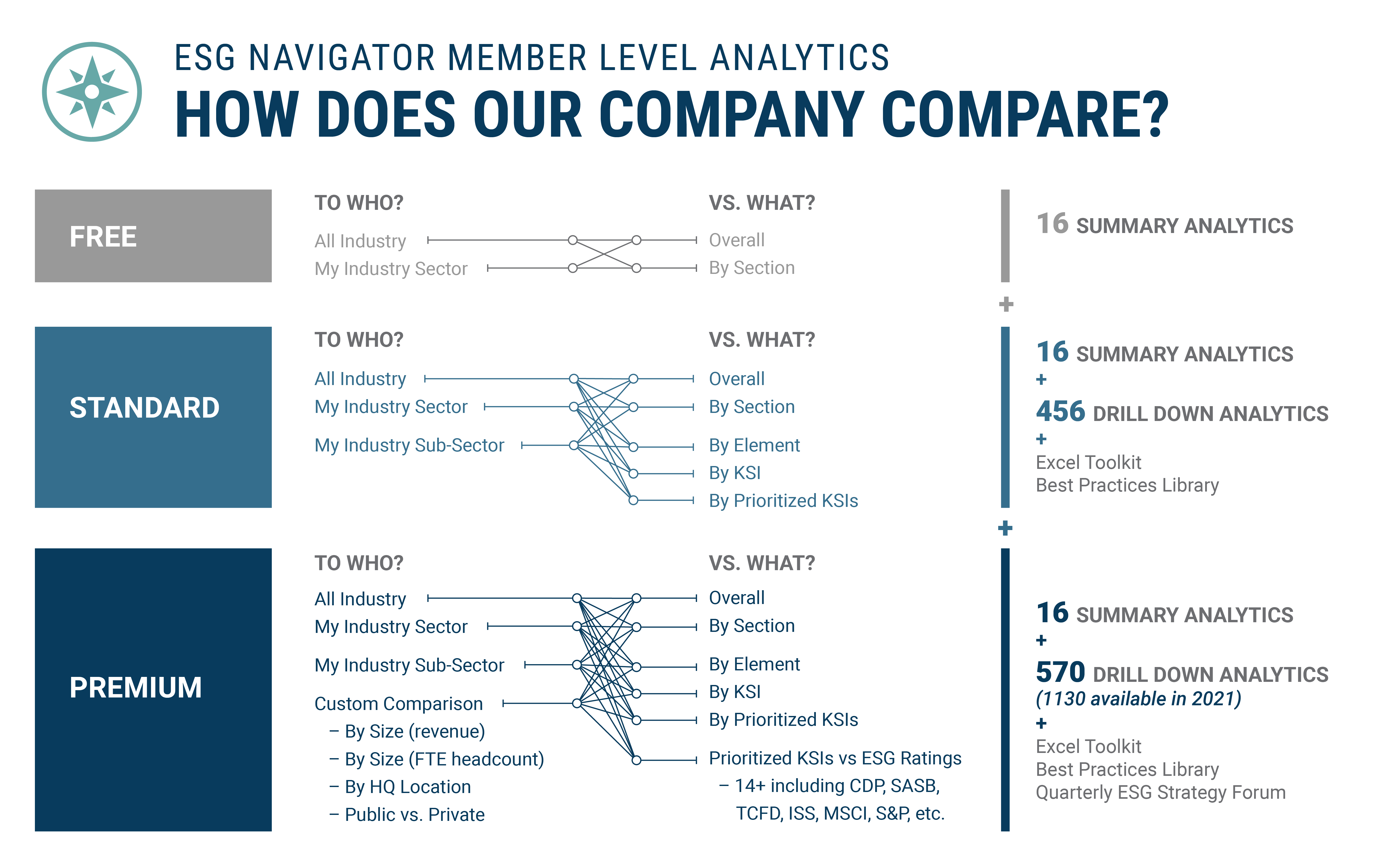 All the benefits of Option B… plus:
Driving Performance Improvement:  Dig into priority areas (KSIs) you marked as "Highly Important / Relevant to my Company. Engage with peers to address:

Are we having the right strategic conversations about ESG? Do we have the right balance between:

Playing Defense (risk management)
Playing Offense (driving tomorrow's growth)

Where do we go from here? Engage with peer companies that have been active users of the Scorecard; learn from each other.

Compare and Contrast ESG Ratings and Frameworks: See how your company scores compare (via your "Rainbow Charts for Governance, Strategy, Environment, Social) with:14+ESG ratings.

Compare and Contrast: Analyze and compare the scope of 14+ ESG ratings and frameworks (vs. ESG Navigator criteria). (This led to creation of a "bubble chart" comparing the 14+ ESG ratings.)
Targeting ESG Rating Improvement: Can we use ESG Navigator to target ESG rating improvements? How well do we balance (internal) performance improvement vs. striving for (external) recognition (via ESG ratings)?
ESG Ratings Maps: this new feature grew out of requests by Option C participants.

Quarterly Strategic Discussion Forum – During 2019, we added – at the request of our Option C members – a quarterly web call to discuss strategic issues.

Who Can Participate? Only available to Option C (Premium) participants.
What about Monthly Webinars? The monthly webinars continue – open to interested participants and focused on more practical information and updates.
Target Audience? These quarterly forum is aimed at CSOs and VP-level executives.
Requirements (same for all Join options): must be a for-profit company – realizing ESG Navigator is designed primarily for large and mid-size companies (e.g., revenue of $100MM+ or 100+ employees). ESG Navigator is not available (or intended for) professional service firms (consultancies, law firms, etc.).
What You Agree: Complete an initial Company Self-Assessment; update your Company Self-Assessment at least once per year. Click the Option A Join button – and thereby confirm the User Agreement. This ensures confidentiality of your data (no other company can see your data) and allows us to list your company name as a participant – so that you (and all others) have a sense of what peer companies are in the benchmark database.