---
"I consider your work the leading pragmatic, industry-focused tool for (sustainability/ESG) assessment and improvement. Every global corporation needs that."
Mark Weick, Dow Chemical Company (retired)
---
Launched and Shaped in Corporate Boardrooms
I have had the privilege over many years of participating in over 60 board of directors meetings of major (mostly Fortune 500) corporations. I was there as an independent advisor, providing guidance on environmental, social and governance (ESG) risks and opportunities. During the late 1990's, corporate boards in the U.S. began discussing how some leading companies – particularly those based in Europe – were beginning to address sustainability in a comprehensive way.
In 1997, I participated in two Fortune 500 Board of Directors meetings that sowed the seeds for ESG Navigator. Ashland's Board Public Policy – Environment Committee Chair Patrick Noonan asked me if we could develop a scorecard that would help board members navigate sustainability. Separately, Honeywell (then AlliedSignal) CEO Larry Bossidy and his outside directors wanted a maturity model to help them plan strategically.
During those 1997 Board meetings, I decided to craft The Sustainability Scorecard – later renamed ESG Navigator.
Gib Hedstrom
About Gib Hedstrom
Since 1997, ESG Navigator has evolved greatly.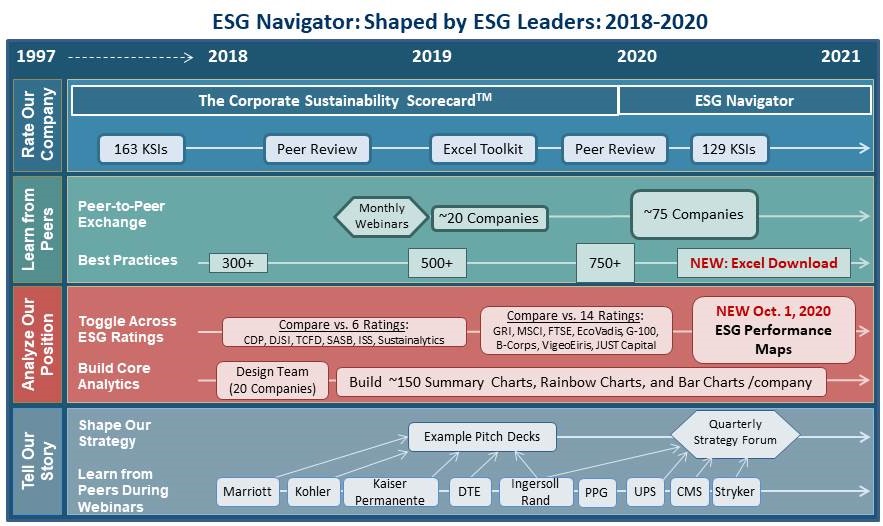 1998: First major client assignment (Anheuser Busch) using the Scorecard over a three-month assignment.
1999-2014: Used ESG Navigator with over 30 companies in the U.S. and another 20 in Europe (via my Arthur D. Little colleagues).
2015: Pilot Program involving 25 major companies. All completed the benchmark data and engaged in webinars to provide improvement suggestions.
2016-2017: Major overhaul based on 2015 Pilot.
2018: Official Launch – with 60 "founding members" – many of whom were members of Conference Board Councils I ran at the time. Launched major website upgrade to build out the analytics. Conducted major review of the rating criteria (Key Sustainability Indicators) – resulting in a reduction in number of KSIs from ~160 to 147. Invited founding members to officially join during Q4-2018.
2019: Launched monthly webinars; continued major website upgrades; launched new "Advanced" Join Option; conducted another major review of the KSI rating criteria – resulting in a reduction in the number of KSIs from 147 to 129.
2020: Signed license agreement with The Conference Board. Began to gradually expand outreach to engage more companies.
2021: Streamlined KSIs (129 to 114) with considerable input. MBA team analyzed ESG ratings. Major website improvements.