---
"The maturity model is of tremendous value. ESG Navigator does not tell you what is right or wrong. I love that Stage 4 is the next frontier – where the standard is moving. "
Jane Schindewolf – Vice President, Sustainability – DuPont [retired]
---
Join to view ESG Navigator Handbook
The Conference Board endorsed ESG Navigator because it is the best, most comprehensive ESG framework globally, providing a holistic view of ESG from the perspective of a corporate board or CEO.
Rating Criteria are available to all Registered Users; please log in or request login credentials.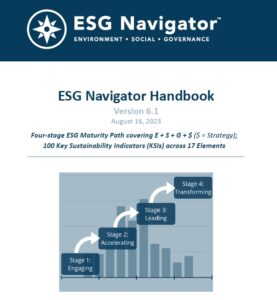 Annual Updates
Annually (since 2015), we conduct a comprehensive review of the ESG Navigator rating criteria – to continually sharpen and simplify – yet retain the integrity for year-over-year comparisons. The updates include changes suggested by ESG Navigator users.; changes based on latest business news; and input from the ESG research team at The Conference Board.