Don't let ESG ratings dictate your strategy. Craft your strategy to deliver value.
Remember – ESG Navigator was built by industry – for industry. Every Key Sustainability Indicator (KSI) is a practice many companies initiated on their own to drive business value.
Compare and Contrast
See how different external ratings fit with the KSIs in ESG Navigator – and with each other. Here is an example showing just two (of the 17) elements of ESG Navigator…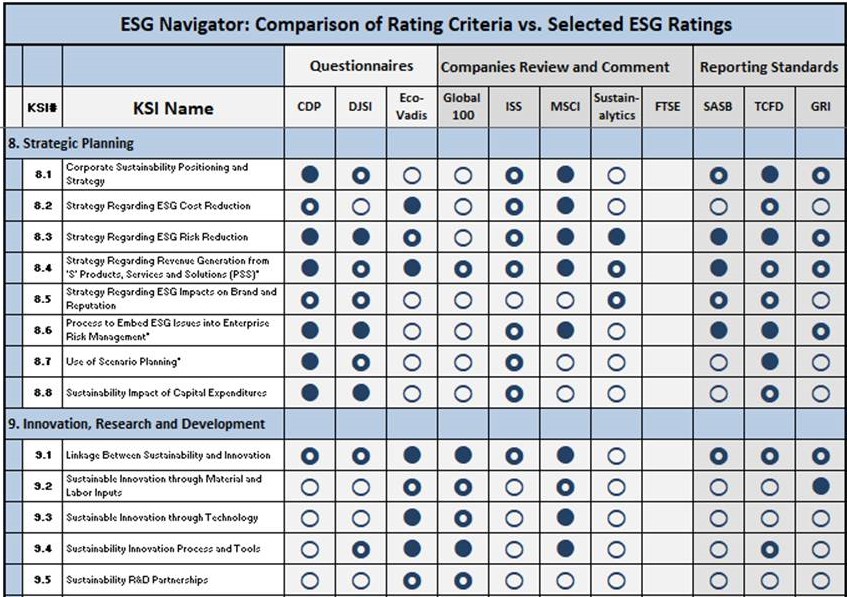 In the graphic above, a solid "bubble" means a high degree of overlap between the ESG rating scope – and the specific KSI; semi-solid "bubble" means partial overlap; hollow "bubble" means little or no overlap.
An Excel version of the comparisons (like shown above) is available only to companies that Join Advanced Gold. See https://esgnavigator.com/join/
Viewing Options:
On this page, you can "toggle" back and forth between
A group of ESG ratings and reporting standards (listed below) – and
"Rainbow Charts" of the four main sections of ESG Navigator:

Governance
Strategy
Environment
Social
ESG Ratings and Rankings:
Questionnaire-Based: 
Based on Public Data:

Bloomberg
EcoVadis
FTSE
Global 100
ISS
MSCI
Refinitiv
Sustainalytics
ESG Reporting Standards: