---
"External ESG ratings focus predominantly on environmental and social risks – with hardly any focus on governance or strategy. That's where ESG Navigator is especially helpful."
Linda Hilbert – Executive Director – Consumers Energy
---
New ESG Performance Maps
View ESG Performance Maps Demo here (coming soon)
Download your company's ESG Performance Maps
(coming later this year… for now simply ask Gib for your latest version)
Compare and Contrast
Would you like to see – on one page – how a dozen of the main ESG ratings and frameworks compare:
to each other?
to your ESG Navigator ratings?
(and especially) to the "top 10-15" KSIs you and your team mark as "Highly Relevant" to your company's future growth and profitability?
The new ESG Performance Maps build on a base-level ESG Ratings Bubble Chart that is available to the "Advanced Option C" users only. They asked for this; they love it; and they wanted more – which is why we have been building on this.
We ran a pilot with 20 companies in mid-2020 and launched ESG Performance Maps in September 2020.
1. We start with a basic "Coverage Map" – showing the extent to which 14 ESG frameworks and ratings "cover" or address the content of ESG Navigator KSIs (which = the things companies do to create value from ESG):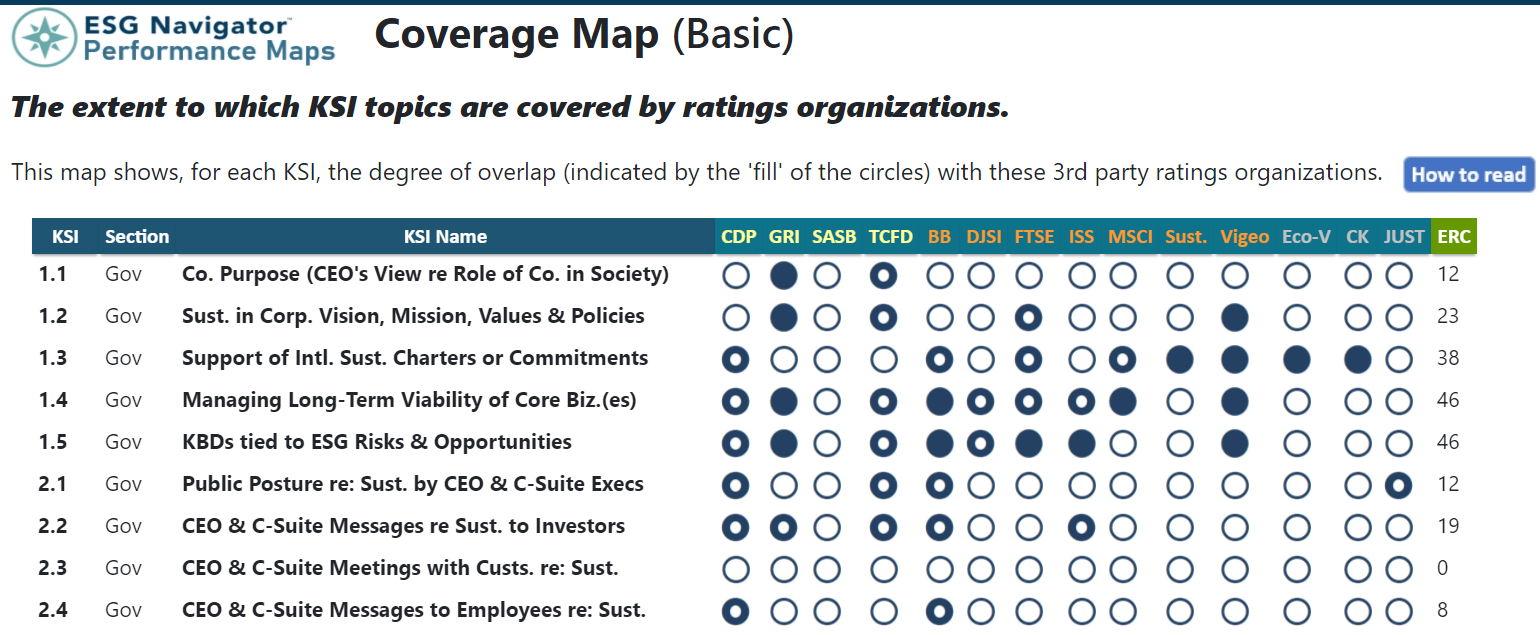 2. We then add in your company ESG Navigator Scores:

3. We then show your "heat map" analysis:

4. Then sort by the "HR!" column – to show those KSIs you and your team mark as highest priority for your company:

5. Then show your "heat map" at a summary level – showing the 17 major "elements" of ESG Navigator: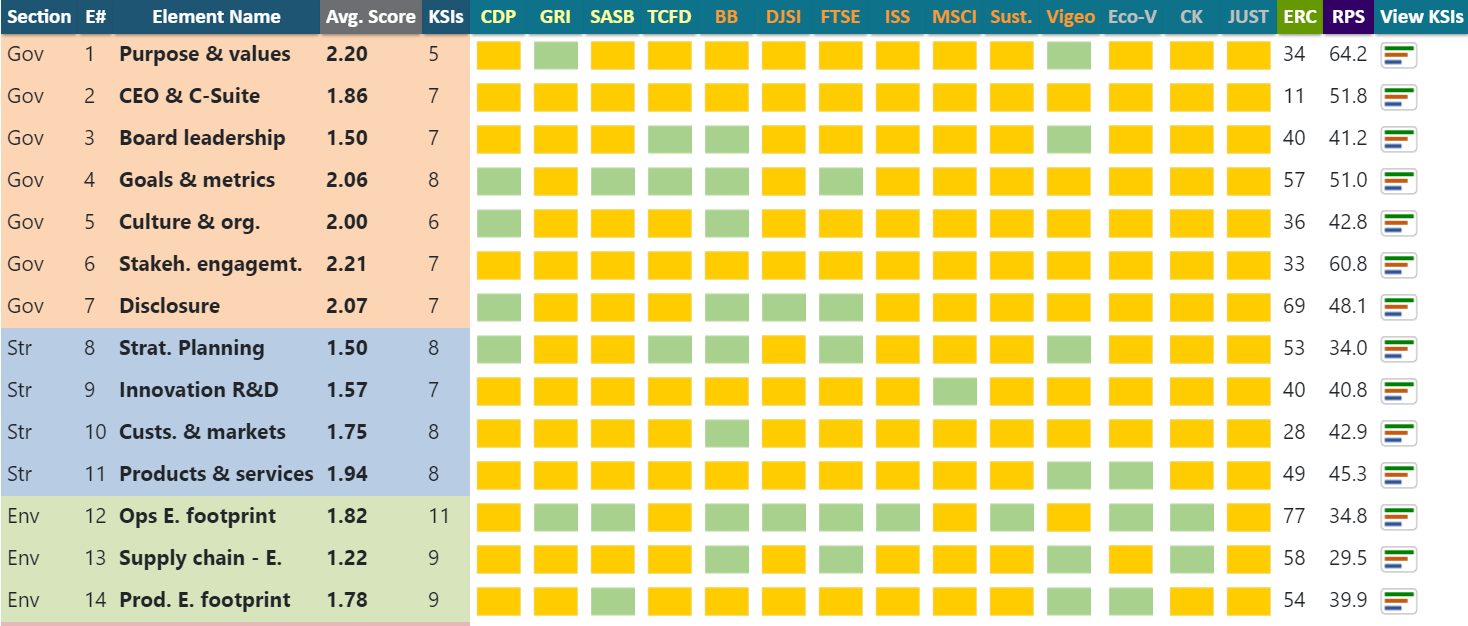 6. Finally a Dashboard shows your overall Ratings Positioning Score (here is one of many analytics):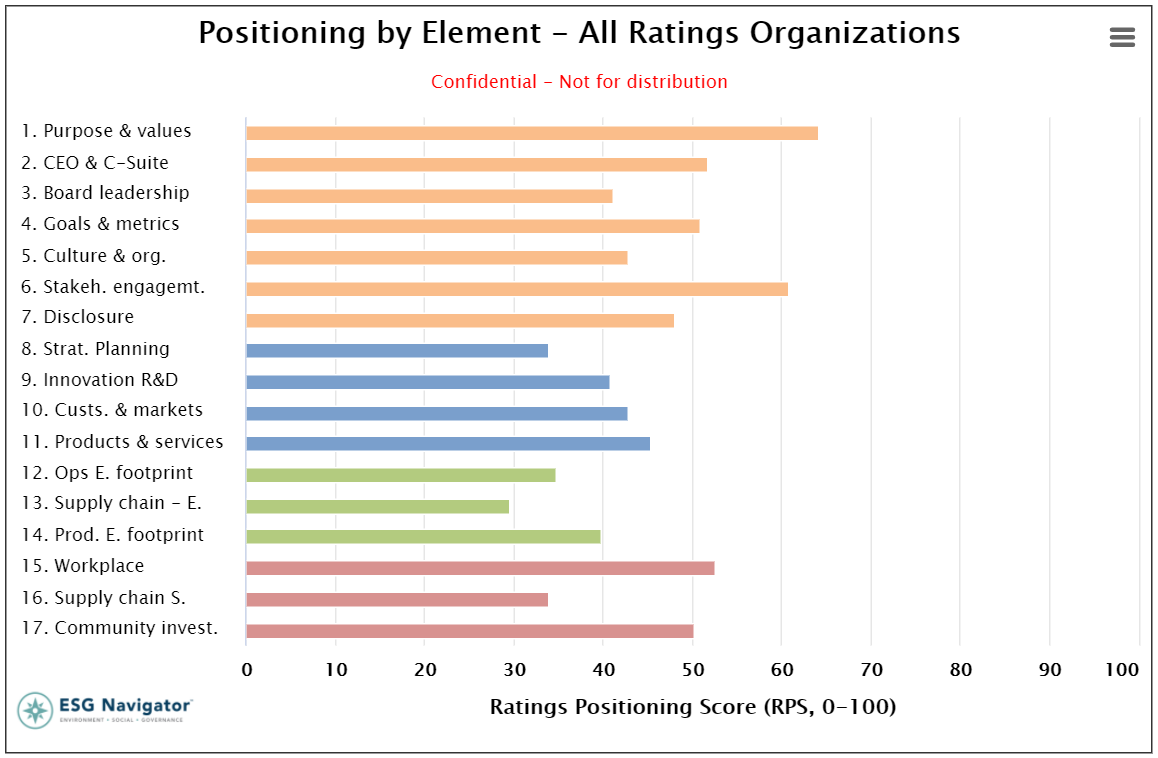 There's lots more!